For the 2019 Chevrolet Silverado Trail Boss Z71 designers cranked the volume up to 12 and ripped off the knob.
Trucks are an all-American staple like mom's apple pie, and superhero movies. Like most superhero movies, the new 2019 Chevrolet Silverado Trail Boss is tough-as-nails and an awesome ride. All it needed was an over-sized bat logo painted on the hood and it would make a suitable ride for any vigilante ready to clean up Gotham City.
Town & Country gave me the opportunity to drive the new 2019 Chevrolet Silverado Trail Boss Z71. First, KC gives us a look around.
The Test Drive
KC at Town & Country put me in the Trail Boss and it was a helluva ride. This is the Silverado made for the Rocky Mountains with a factory-installed suspension lift, push-button four-wheel drive, aggressive, knobby tires, automatic tailgate, and a big 5.3 liter V-8 engine that rumbles with 355 horses under the hood.
One of the things I really liked about the Trail Boss was the spacious interior. Yes this truck was ready to spit nails and chew up the Rockies, but Chevrolet didn't skimp on comfort. The wheelbase on this 2019 build is 4-inches wider than previous years, with most of that space going into the cab, so even those in the backseat won't be sacrificing any room.
And the blacked-out, glossy bow tie was a really nice touch.
Check out my full video review for more details including the integrated navigation, Apple Car Play, on-board safety systems like rear view and trailer cameras, collision detection, and a full feature run-down from KC at Town & Country Auto.
Town & Country Auto
Want to take your own test drive? Call KC at Town & Country Auto at (719) 539-6633 or on his mobile at (310) 902-9098. Tell him Terry sent you.
Town & Country Auto on Highway 50 in Salida is your hometown dealer.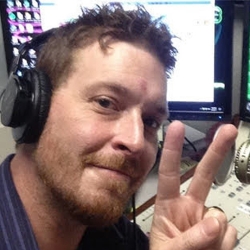 Broadcasting has been my passion for 23 years. I have recorded for radio, television, educational videos, audiobooks, podcasts, video games, apps, documentaries, and Internet videos with clients ranging from Disney, Volkswagen, Buick, Best Buy and Harley Davidson to NBC.

I've held every job in a radio station from part-time scum, sales, DJ, News Director, Production Director, Managing Editor, Digital Guru, all the way to #1 rated Morning Show Host and Program Director.

I am the Morning Show Host for Eagle Country 104, hold down afternoons on The Peak 92.3, and the Digital Managing Editor for Heart of the Rockies Radio.

I'm a Gen X refugee that fears the day my generation will rule the world. I'm currently stockpiling goods and supplies in Salida, Colorado with my wife Natalie and soon-to-be mad scientist son, Jack.

My name is Terry West: I know the truth about the One Ring, how to gank a demon, The Doctor's name, and the Death Star's only weakness. I am a father, husband, writer, broadcast professional, and Voice Over Talent.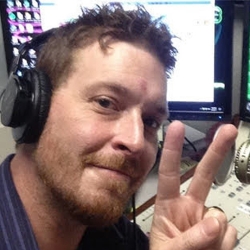 Latest posts by Terry West (see all)