Skiers, backcountry users and spring break travelers are urged to "know before you go".
Travelers to Colorado's high country will encounter treacherous winter driving conditions this weekend. The Colorado Department of Transportation urges skiers, backcountry users and spring break travelers to plan ahead. Highway mountain passes and the Interstate 70 corridor will see severe impacts with heavy snowfall and wind-driven snow causing slushy roads, snow-packed conditions and potential white-outs.
"Motorists need to be prepared with more than just their outdoor gear when traveling during winter weather conditions," said John Lorme, CDOT's director of maintenance and operations. "Pack your vehicle with extra food, water, warm clothes, blankets and necessities like medications. Safety closures may happen at any time during severe weather and if you are held up on the highway you want to be prepared."
The National Weather Service has issued winter storm warnings and advisories for western Colorado and the I-70 mountain corridor, emphasizing that travel will be difficult to impossible. Heavy snow and blowing snow could significantly reduce visibility, especially on mountain passes.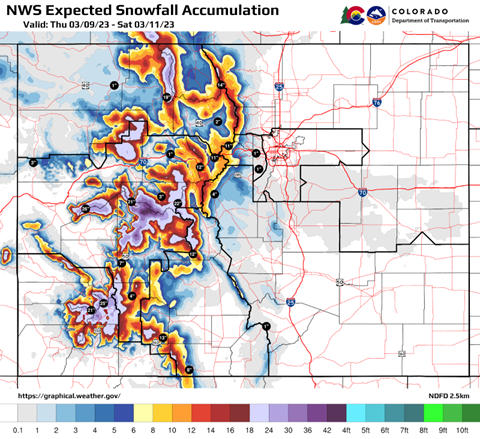 "Commercial motor vehicle and passenger vehicle drivers must drive for the conditions and consider the hazards before heading out on the roads," said Lorme. "If you do not have experience driving in winter weather, please avoid driving in the mountains this weekend. We understand that many folks may be visiting Colorado this weekend and urge them to consider taking CDOT's Pegasus, Snowstang or Bustang to get to their destinations safely. The more vehicles off the roadway, the easier it is to keep our roads clear of both snow and incidents."
East of the Divide and the Denver area will experience more spring-like storm conditions. Rain and light snow showers will begin late Friday night and will last through the weekend. Roads will be slick.
Additionally, the Front Range and Eastern Plains are under a red flag warning. Travelers along the I-25 corridor, especially drivers in high-profile vehicles, should drive with extreme caution.
Drivers are urged to "know before you go", check road conditions on COtrip.org, and stay on top of the latest forecast information as the winter weather evolves.
What Motorists Should Know
Avoid or limit driving during the brunt of the storm. Many areas of the state will experience pavement impacts.
If you plan to travel, know before you go by checking out the latest weather conditions and visiting COtrip.org for road conditions (see info sources below).
Make sure your vehicle is winter ready with the appropriate tires for the weather and have a snow emergency kit.
Once you are out on the road, take it slow, no sudden stops and leave plenty of following distance.
Give plows space! Stay back three to four car lengths from snowplows.
Safety Closures
A safety closure is a precaution taken during inclement weather to reduce the probability of traffic incidents, increased congestion or other safety-related factors. During a safety closure, traffic may be stopped on the interstate, turned around or directed to an exit. Safety closures help decrease delay times, and, above all, keep travelers safe.
Chain & Traction Laws
When weather conditions warrant, CDOT will activate the Traction Law. If weather conditions deteriorate, CDOT will activate Chain Laws for passenger and commercial vehicles.
Motorists will be alerted to an active Traction or Chain Law by highway signage, COtrip.org and traffic/roadway condition alerts. For more information on the Traction Law and Passenger Vehicle Chain Law requirements, visit codot.gov/travel/winter-driving/tractionlaw.
For more information on the Commercial Vehicle Chain Law requirements, visit codot.gov/travel/colorado-chain-law. To learn more and view helpful tips for winter driving, visit winter.codot.gov.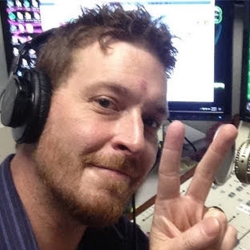 Latest posts by Terry West
(see all)