It's Homecoming Weekend in Buena Vista.
Activities start today with a Homecoming Parade down Main Street at 5 pm, followed by a bonfire at the Rodeo Grounds at 8 pm.
The BVHS Booster Club is hosting a Tailgate Party before tomorrow's game offering burgers and brats from 11 am to 1 pm at the football field.
Parking for tomorrow's football game in Buena Vista will be tricky with the construction project at the school.  For access to the football field, spectators will enter at the east end of the field off of Mayer Avenue.  The only available parking lots on school property are the paved parking lot south of the gym and the dirt lot in front of the high school.  Staff will be on site to assist in parking. 
A shuttle will be provided to transport spectators from the parking lot north of Main Street and Railroad. Transportation will be provided from 11:30 am to 1 pm and then again after the game.
Please do not attempt to enter near the gym complex or construction zone.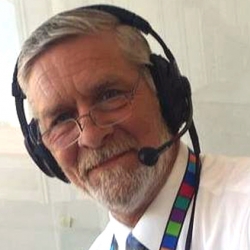 Danny "Dan R" Ridenour has been in radio and television broadcasting for 42 years, starting as a senior in high school at KAMO in Rogers, Arkansas.

Dan attended Arkansas State University in Jonesboro, Arkansas from 1978-82 (where he picked up the name Dan R after his fraternity brothers couldn't pronounce his last name), majoring in Radio/Television. Dan lived in Jonesboro for 10 years working in radio and then was a TV weatherman for ABC affiliate KAIT Channel 8.

Television was a little boring when compared to radio, so Dan returned to hosting radio morning shows in Nashville, Memphis, Oklahoma, and then eventually, Colorado.

Dan enjoys being involved in the community, having been an member of the Upper Arkansas Service Club and is currently on the board of directors for the Salida Community Center and is a member of the Chaffee County Fair Committee.

Dan and his wife Carrie spend their days doing everything the mountains have to offer: hiking, camping, fishing and skiing. They raised 3 children together and have 2 grandchildren.