The Decker Fire, 9 miles south of Salida, is still listed at 846 acres. Yesterday was the third consecutive day with no measurable growth of the fire.
Incident Commander John Markalunas says activity could pick up over the next four days due to anticipated warmer temperatures, lower humidity and increased winds. 
Markalunas also said this weekends Banana Belt Race, using the Rainbow Trail near the fire, should go off as planned.  
The fire remains on national forest lands and primarily in the Wilderness.
Crews will continue to monitor the fire and allowing fire to play its natural role to promote forest health and resiliency.  
The Decker fire is being managed to remove these high-risk fuels from the landscape for ecological benefit and to reduce the risk for catastrophic wildfires in the future.        
The fire will remain visible from Salida and the Highway 50 corridor.
There are no evacuations or closures at this time.        
A public meeting is being held tonight beginning at 5 pm at the Poncha Springs Town hall where officials will offer updates on the Decker Fire and answer your questions.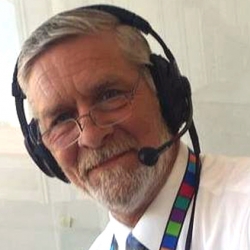 Danny "Dan R" Ridenour has been in radio and television broadcasting for 42 years, starting as a senior in high school at KAMO in Rogers, Arkansas.

Dan attended Arkansas State University in Jonesboro, Arkansas from 1978-82 (where he picked up the name Dan R after his fraternity brothers couldn't pronounce his last name), majoring in Radio/Television. Dan lived in Jonesboro for 10 years working in radio and then was a TV weatherman for ABC affiliate KAIT Channel 8.

Television was a little boring when compared to radio, so Dan returned to hosting radio morning shows in Nashville, Memphis, Oklahoma, and then eventually, Colorado.

Dan enjoys being involved in the community, having been an member of the Upper Arkansas Service Club and is currently on the board of directors for the Salida Community Center and is a member of the Chaffee County Fair Committee.

Dan and his wife Carrie spend their days doing everything the mountains have to offer: hiking, camping, fishing and skiing. They raised 3 children together and have 2 grandchildren.