Chaffee County recently awarded Colorado Firecamp a $330,750 Common Ground grant "to build capacity for wildfire mitigation projects through the purchase of a compact track loader/mulcher and dump trailer, plus funding for staff to include a half-time forestry technician and seasonal work crews."
Colorado Firecamp Fire and Forestry Coordinator Kent Maxwell said, "Firecamp is providing a direct cash match of $29,250, with landowners and HOAs contributing $90,000 cash match and outside grant funding of $167,000 being sought over 3 years."
He estimated Firecamp's in-kind match will total "almost $700,000 from the value of our student and instructor work during field exercises." Firecamp is seeking or has been awarded an additional $420,000 a year in grant funding "for conservation corps chainsaw crews."
Colorado Firecamp qualifies as a public charity based on its mission "to protect life, preserve communities, and conserve America's wildland resources by training students for suppression of wildfire, mitigation of wildfire risk, and stewardship of forests and grasslands."
As a member of the Envision Forest Health Council, Colorado Firecamp works with other council members, especially the Colorado State Forest Service, to perform fire mitigation work that implements best practices while providing workforce training opportunities for wildland firefighting students.
Maxwell said Firecamp recently started its "224th and 225th sessions of S-212 Wildland Fire Chain Saws with a class in Maysville and one in Fort Collins for the Larimer County Conservation Corps. We are transitioning to teaching the newly released U.S. Forest Service "Developing Thinking Sawyers" and have applied to become a U.S. Forest Service saw training partner/cooperator."
Located in Maysville, Colorado Firecamp was conceived by Maxwell in 2002, as described by Mike Rosso in Colorado Central Magazine.
2002 was the year that the 138,114-acre Hayman Fire became the largest wildfire in Colorado history – until 2020, when it was surpassed by the Cameron Peak Fire (208,663 acres), the East Troublesome Fire (192,560 acres) and the Pine Gulch Fire (139,007 acres).
2002 was also one of the worst drought years on record in Colorado, and Maxwell observed rural landowners clearing defensible space and creating large slash piles.
A volunteer firefighter at the time, Maxwell grew concerned about the proliferation of slash piles and consulted with Paul Janzen, a local forester with the Colorado State Forest Service. Janzen suggested a tub grinder to help manage the slash, and their conversations also ventured into the need for wildland firefighter training.
From those early efforts to help local landowners with fire mitigation, Colorado Firecamp was born, incorporated as a 501(c)(3) nonprofit in December 2002.
By 2003, Maxwell had helped Chaffee County Fire Protection District secure grant funding to lease four tub grinders to address slash piles.
As Rosso has written, Wendy Fischer, coordinator for the Colorado Wildfire Academy (now known as Colorado Wildland Fire and Incident Management Academy) provided important information and helped Maxwell connect with key personnel at the relevant agencies.
Maxwell's parents agreed to allow the use of their Ponderosa Lodge resort property to provide meals, lodging and space for firefighter classes, and by November 2003, Colorado Firecamp had a memorandum of understanding with the Rocky Mountain Coordinating Group, an interagency group focusing on wildfire response.
Firecamp began by offering basic training in wildland firefighting, teaching its first class in May 2004. In the ensuing 19 years, the firefighter school has developed a reputation for providing quality firefighter training.
"I am incredibly grateful for the opportunity I've been given to help build community in my years of service to Chaffee County and the opportunity to train the next generation of firefighters and sawyers," Maxwell concluded.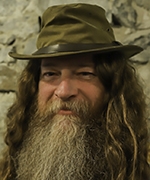 Latest posts by Joe Stone
(see all)