In Tuesday's ongoing deliberations about the BlueTriton Brands 1041 permit, Chaffee County Commissioner Keith Baker expressed his opposition to granting a permit that would allow the company to continue using Chaffee County spring water for its bottled-water operation.
"I think every major religion has the concept of, 'What good is gaining the whole world if you lose your soul,' and that's kind of where I put this, at that basic, fundamental level. … This is water. This is something we cannot live without."
Commissioners Greg Felt and Rusty Granzella expressed various levels of support for the permit contingent upon new and modified conditions, but following an executive session for legal consultation, Granzella acknowledged that more information is needed.
The Commissioners decided to continue the public hearing at 11 a.m. July 6.
Tuesday's deliberations focused on three standards in Chapter 3 of the County 1041 Regulations with two "considerations" in Section 303(1)(k) generating the most debate.
Section 303(1)(k) states, "The proposed Project will not have a significantly adverse net effect on any segment of the local economy (e.g. recreation, tourism, agriculture, and mining) within the County or any portion of the impact area. The determination of effects of the project shall include the following considerations … ."
Of those considerations, Granzella expressed doubts about Number v, "Changes in opportunities for economic diversification," and Number vi, "The benefits accruing to the County and its citizens from the Project outweigh the losses and any natural, agricultural, or recreational resources within the County, or the losses of opportunities to develop such resources."
Baker said Number vi is at the crux of his concerns.
Granzella presented a possible condition that he said he believes could resolve his concerns – charging a royalty on each gallon of water that leaves the county. "I think a fair royalty-type setup would be somewhere in the one penny a gallon (range)."
County Attorney Jenny Davis said that BlueTriton has proposed to address Section 303(1)(k)(v) and (vi) by providing funding for workforce development, housing, forest health and education in addition to the company's ongoing philanthropic and educational donations. She said this commitment would provide an additional $1 million over 10 years.
Commissioner Baker expressed concern about how the unprecedented rate of climate change is impacting water resources. "We have to have water to live. Water is life. … To be in a position years from now, where people say, 'Why did they do that? That was water. That is a basic fundamental requirement of human life.'"
Approving the 1041 permit, even for no more than ten years, "sets a tone," which "can't be economically quantified," Baker said.
Commissioner Felt said, "I'm going to take a position that's more in support of the proposed mitigation. … I feel that Nestlé did a much better job in this go-around than 10 years ago in terms of proposing mitigation that really did speak to impacts and challenges that our community is facing."
He said he was impressed with the logic behind the proposed economic mitigations, including money for workforce development, housing and fire mitigation. He also noted that BlueTriton's operations would be shut down long before any water shortage could threaten local drinking-water supplies.
Commissioner Baker previously expressed concerns that the standard in Section 303(1)(a) had not been met because the need for the project had not been substantiated.
That section reads, "To the extent applicant's service area is located within or partially within the boundaries of the County, the need for the proposed project can be substantiated."
"I still feel that way," Baker said. "There is drinking water available."
"I think I agree with Steve Sims (BlueTriton legal counsel) … when he talked about this at our meeting at the Fairgrounds," Commissioner Felt said. "I think this standard is really designed to apply to things more like utilities, municipal water supply systems, things like that."
Commissioner Granzella also said he does not think this standard applies to BlueTriton's operations in Chaffee County.
The other standard in question, Section 303(1)(c), states, "The proposed project emphasizes the most efficient use of water … ."
"I did some research about the Colorado Doctrine," Baker said. "I think there's enough uncertainty … about what the original intent of all this was that I can't give full support to the idea that this is the efficient and best use of the water."
Citing a book from his research, Baker pointed to a prevailing Utilitarian ethic at the time the Colorado Doctrine was developed. "One of the original underpinnings of the Colorado Doctrine and Colorado law was to prevent speculation and profiteering off water." He concluded, "No one should be able to profit from speculation on the water."
Commissioner Felt responded, "I feel like for the purposes of our county and our watershed, you can also view it as a very efficient use of the amount of water that's actually taken out. I agree with some of the concerns that are probably beyond our scope."
Felt also noted that BlueTriton's use of the water doesn't reduce the amount of water available in the county.
Baker said his uncertainty is rooted in the Utilitarian emphasis on "the greatest good for the greatest number" as the context of the Colorado Doctrine of water appropriation.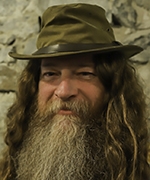 Latest posts by Joe Stone
(see all)