As rafting season gets underway on the upper Arkansas River, the Arkansas River Outfitters Association has released a preliminary report showing commercial outfitters generated nearly $43 million in total visitor expenditures in Chaffee and Fremont counties in 2021, an increase of more than 50% over 2020 numbers.
The increased economic impact was driven by a 41% increase in visitors compared to 2020, with river outfitters running 262,357 commercial trips in 2021. The numbers include commercial rafting and kayaking trips for whitewater recreation and fishing but do not account for trips by private boaters.
The preliminary report from AROA notes that the Arkansas River corridor from Granite to Cañon City "generates more than 40% of rafting activity in the state of Colorado" during boating season.
AROA Executive Director Bob Hamel said a more detailed analysis of the 2021 data is expected later this year; in the meantime, an analysis of 2020 data correlates how commercial boating trips generate indirect economic activity.
The analysis, published in a report titled Economic Value Analysis for Arkansas River Outfitters, was prepared by Pacey Economics for the Arkansas River Conservation Cooperative.
The ARCC report shows that purchases of commercial outfitter trips generated more than $17 million in direct revenue and millions more in associated expenditures, including one in six hotel room rentals and one in 10 restaurant orders.
According to the report, direct expenditures by commercial boating customers in 2020 "amounted to some $15 million for trips on the river and $1 million for imaging/photography. … Just over 90 percent of the outfitter trip revenues are attributable, almost equally, between Chaffee and Fremont Counties." On-site retail sales by outfitters added another $1.5 million in direct revenue in 2020.
The 2020 numbers show that river outfitters "provide some 55% of the overall revenues in the 'amusement and outdoor recreation' sector in the Fremont County economy" and "nearly 20% of this sector in Chaffee County."
The ARCC report calculates the "multiplier" effect of direct expenditures using software based on the IMPLAN model, first developed by the U.S. Forest Service and now a financial industry standard for calculating the full range of impacts from various economic sectors.
For the ARCC report, the IMPLAN model calculated indirect expenditures by visitors "that are necessarily related to their decision to participate in a rafting, kayaking, or fishing experience," including other purchases for things like lodging, food, gas and other retail sales.
The upper Arkansas River's status as a major economic driver greatly benefits from the innovative Voluntary Flow Management Program, which ensures the most consistent, reliable river boating season in Colorado by ensuring river flows sufficient for boating from July 1 through Aug. 15.
For thrill-seekers, river flows typically peak throughout May and early June, while prime family floating typically runs from mid-June through mid-August.
From July 1 through Aug. 15, owners of senior water rights and purchasers of Fryingpan-Arkansas water voluntarily coordinate releases from upstream reservoirs to supplement summer river flows through the VFMP to help ensure sufficient flows for recreational boating during peak visitation.
Multiple organizations and government entities partner to make the VFMP work.
The U.S. Bureau of Reclamation plays a key role in the program as the agency responsible for operating the Fryingpan-Arkansas Project infrastructure. This role includes operating reservoir dams to maintain desired river flows.
The Southeastern Colorado Water Conservancy District owns the rights to the Western Slope water imported by the Fry-Ark Project. The Southeastern District typically commits 10,000 acre-feet of that water each year to the VFMP.
As the recreation manager for the Arkansas Headwaters Recreation Area, Colorado Parks and Wildlife monitors river flows and provides the scientific expertise to optimize flows for a healthy aquatic ecosystem.
AROA represents the interests of the recreational boating industry in VFMP discussions, and the Collegiate Peaks Chapter of Trout Unlimited advocates for flow management to maintain the health of the Gold Medal Arkansas River fishery.
Water owners like Pueblo Board of Waterworks coordinate releases from upstream reservoirs to supplement river flows, recapturing the water in Pueblo Reservoir until putting the water to beneficial use.
Following full analysis of the 2021 data, AROA plans to provide a more detailed and scientific analysis of visitor expenditures and industry benefits as they relate to the VFMP.
Information about commercial boating opportunities on the Arkansas River are available at the AROA website.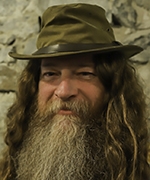 Latest posts by Joe Stone
(see all)