Angelina Sanchez of Salida has been arrested for violating terms of her bond conditions by having nine dogs in her residence.
Sanchez was first arrested last Thursday on 15 charges of animal cruelty after police found 15 dogs living in her home at 130 W. 10th Street in Salida. Police also found five dead dogs and a dead rabbit.
On Tuesday of this week, Salida Police were alerted again to the residence at 130 W. 10th Street regarding an animal complaint.
According to the Probable Cause Affidavit, Sanchez gave police permission to come into the home where officers found 9 dogs in the residence. Sanchez told officers that 8 of the dogs belonged to her and one belonged to her daughter. 
Under the terms of her bond, she is not allowed to possess more than one pet.
Sanchez was placed into custody and charged with violating her bond conditions.
The 8 dogs were placed into the custody of Ark Valley Humane Society where they joined the 15 dogs already in their care from the first case involving Sanchez.
Ark Valley Humane is currently looking for adopters for the 1st 15 dogs.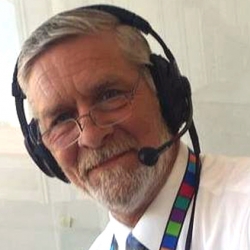 Danny "Dan R" Ridenour has been in radio and television broadcasting for 42 years, starting as a senior in high school at KAMO in Rogers, Arkansas.

Dan attended Arkansas State University in Jonesboro, Arkansas from 1978-82 (where he picked up the name Dan R after his fraternity brothers couldn't pronounce his last name), majoring in Radio/Television. Dan lived in Jonesboro for 10 years working in radio and then was a TV weatherman for ABC affiliate KAIT Channel 8.

Television was a little boring when compared to radio, so Dan returned to hosting radio morning shows in Nashville, Memphis, Oklahoma, and then eventually, Colorado.

Dan enjoys being involved in the community, having been an member of the Upper Arkansas Service Club and is currently on the board of directors for the Salida Community Center and is a member of the Chaffee County Fair Committee.

Dan and his wife Carrie spend their days doing everything the mountains have to offer: hiking, camping, fishing and skiing. They raised 3 children together and have 2 grandchildren.