Road Construction continues around the area in Salida, Howard, Fairplay, and Monarch Pass. Here's a rundown of all the construction projects.
Holman Avenue in Salida is expected to have temporary closures today and tomorrow.
The City of Salida is performing asphalt maintenance this week on Holman Avenue, Airport Road, New Street, Scott Street, Chilcott Street, Wood Avenue and 5th Street. Other closures will be intermittent. The project is expected to be completed by September 11th.
Travelers can expect delays on Highway 50 over Monarch Pass. Periodic closures will take place for rock scaling and helicopter operations to drop in materials for a new avalanche control system.
Three days of intermittent full closures will occur tomorrow, Thursday and Friday. Motorist traveling both eastbound and westbound should expect 20 minute delays.
Highway 285 remains closed between Antero Junction and Fairplay through Thursday. The detour is to take U.S. 24 at Antero Junction to Highway 9 to Fairplay.
The closure will be in place every Monday through Thursday through August.
The Colorado Department of Transportation continues construction on Highway 50 through Howard. The project includes the installation of slow-vehicle turnouts and passing lanes in both directions.
Speeds are reduced to 40 mph through the work zone and a 10 feet width limit is in place.
Work on the $4 million improvement project will continue through October.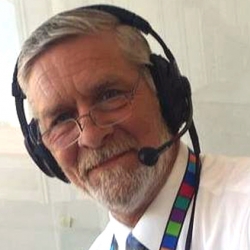 Danny "Dan R" Ridenour has been in radio and television broadcasting for 42 years, starting as a senior in high school at KAMO in Rogers, Arkansas.

Dan attended Arkansas State University in Jonesboro, Arkansas from 1978-82 (where he picked up the name Dan R after his fraternity brothers couldn't pronounce his last name), majoring in Radio/Television. Dan lived in Jonesboro for 10 years working in radio and then was a TV weatherman for ABC affiliate KAIT Channel 8.

Television was a little boring when compared to radio, so Dan returned to hosting radio morning shows in Nashville, Memphis, Oklahoma, and then eventually, Colorado.

Dan enjoys being involved in the community, having been an member of the Upper Arkansas Service Club and is currently on the board of directors for the Salida Community Center and is a member of the Chaffee County Fair Committee.

Dan and his wife Carrie spend their days doing everything the mountains have to offer: hiking, camping, fishing and skiing. They raised 3 children together and have 2 grandchildren.