Just one week after dropping out of the race for the White House, John Hickenlooper has announced he is seeking a U.S. Senate seat.
Early this morning, former Colorado Governor John Hickenlooper revamped his website and launched an announcement video on YouTube. 
Hickenlooper hopes to unseat Senator Cory Gardner in 2020.  A recent poll suggests Hickenlooper would have a large lead over other Democrats who are also considering a run.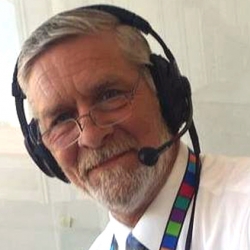 Danny "Dan R" Ridenour has been in radio and television broadcasting for 42 years, starting as a senior in high school at KAMO in Rogers, Arkansas.

Dan attended Arkansas State University in Jonesboro, Arkansas from 1978-82 (where he picked up the name Dan R after his fraternity brothers couldn't pronounce his last name), majoring in Radio/Television. Dan lived in Jonesboro for 10 years working in radio and then was a TV weatherman for ABC affiliate KAIT Channel 8.

Television was a little boring when compared to radio, so Dan returned to hosting radio morning shows in Nashville, Memphis, Oklahoma, and then eventually, Colorado.

Dan enjoys being involved in the community, having been an member of the Upper Arkansas Service Club and is currently on the board of directors for the Salida Community Center and is a member of the Chaffee County Fair Committee.

Dan and his wife Carrie spend their days doing everything the mountains have to offer: hiking, camping, fishing and skiing. They raised 3 children together and have 2 grandchildren.