The Decker Fire, burning in the Sangre de Cristo Wilderness Area in the San Luis Valley, has grown to almost 100 acres. 
The U.S. Forest Service says the fire is meeting a lot of resource objectives such as reducing fuels, removing dead trees and helping aspen regeneration. 
As long as the fire continues to do that and doesn't hit a trigger point, such as a change in the weather, the Forest Service will continue to monitor it but not take action. 
The Forest Service will post notices for local hunters, but currently there are no structures threatened, road closures or forest closures. 
The Decker Fire was started by lightning on Sunday, along with three other smaller fires in the area.
Smoke from the Decker Fire is responsible for an Air Quality Alert for
Saguache, Chaffee, and Fremont Counties until 9 am Wednesday morning (Sept. 11).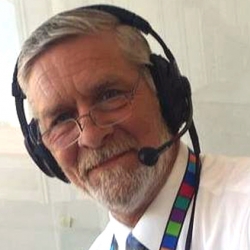 Danny "Dan R" Ridenour has been in radio and television broadcasting for 42 years, starting as a senior in high school at KAMO in Rogers, Arkansas.

Dan attended Arkansas State University in Jonesboro, Arkansas from 1978-82 (where he picked up the name Dan R after his fraternity brothers couldn't pronounce his last name), majoring in Radio/Television. Dan lived in Jonesboro for 10 years working in radio and then was a TV weatherman for ABC affiliate KAIT Channel 8.

Television was a little boring when compared to radio, so Dan returned to hosting radio morning shows in Nashville, Memphis, Oklahoma, and then eventually, Colorado.

Dan enjoys being involved in the community, having been an member of the Upper Arkansas Service Club and is currently on the board of directors for the Salida Community Center and is a member of the Chaffee County Fair Committee.

Dan and his wife Carrie spend their days doing everything the mountains have to offer: hiking, camping, fishing and skiing. They raised 3 children together and have 2 grandchildren.