The Decker Fire is now 8,118 acres and 30 percent contained. 
707 firefighting personnel are currently working the fire using 27 engines, 4 dozers and 9 aircraft. 
The east side of the fire has been troublesome for fire crews and continues to expand.  Crews worked on dozer lines on the east side yesterday and also put in a contingency line around Howard. 
Residences of the Bear Creek and Silver Heels areas in Chaffee County along with residences if Wellsville and Swissvale in Fremont County all remain evacuated, a total of 51 homes. 
Residents of Methodist Estates and Boot Hill remain under pre-evacuation status, as does all of Howard.  Zones 1, 2 and 3 in Howard are under pre-evacuation notice.   
The west side of the fire is largely contained at this time.  The Decker Fire is 30 percent contained, thanks to the west and southwest line of the fire. 
An evacuation center has been set up at the United Methodist Church in Salida. All evacuated residents of Chaffee and Fremont Counties are asked to go to the United Methodist Church in Salida to check in with authorities so all can be accounted for. 
Highway 50 is open, but motorists are advised to drive slowly by the fire.    
An Air Quality Health advisory has been issued due to the smoke from the fire.
The Bureau of Land Management, U.S. Forest Service, along with Chaffee and Fremont Counties all remain under Stage II Fire Restrictions
Multiple road closures remain in effect around the Decker Fire in Chaffee, Fremont and Saguache Counties.
The Colorado Department of Transportation has issued a speed reduction of 40 mph on Highway 50 east of Salida and on Highway 285 south out of Poncha Springs over Poncha Pass.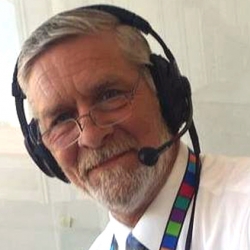 Danny "Dan R" Ridenour has been in radio and television broadcasting for 42 years, starting as a senior in high school at KAMO in Rogers, Arkansas.

Dan attended Arkansas State University in Jonesboro, Arkansas from 1978-82 (where he picked up the name Dan R after his fraternity brothers couldn't pronounce his last name), majoring in Radio/Television. Dan lived in Jonesboro for 10 years working in radio and then was a TV weatherman for ABC affiliate KAIT Channel 8.

Television was a little boring when compared to radio, so Dan returned to hosting radio morning shows in Nashville, Memphis, Oklahoma, and then eventually, Colorado.

Dan enjoys being involved in the community, having been an member of the Upper Arkansas Service Club and is currently on the board of directors for the Salida Community Center and is a member of the Chaffee County Fair Committee.

Dan and his wife Carrie spend their days doing everything the mountains have to offer: hiking, camping, fishing and skiing. They raised 3 children together and have 2 grandchildren.