The Type I Team said it was a productive day yesterday. The Decker Fire is now 6,667 acres and 14 percent contained.
The weather and conditions were good for ground crews to conduct firing operations on the west side of the fire, and they are successfully getting fire closer down to control lines. Winds are shifting with the arrival of a cold front, moving the smoke into Salida and Poncha Springs.
Howard residents will also continue seeing smoke from fire activity on the east side. There is currently no threat on the east side; the fire is naturally burning on slopes near the main body of the fire.
Progress is being made on the north side of the fire. 879 firefighting personnel are currently working the fire.
Besides the 879 firefighters working the fire, the response also includes 29 engines, 3 dozers and 8 aircraft.
The Fremont County Sheriff's Office has lifted the pre-evacuation status for the eastern half of Howard. The western half of Howard and Pine Ridge remain under pre-evacuation status.
The Fremont County Sheriff's Office lifted the pre-evacuation order for Wellsville and Swissvale on Monday.
The National Weather Service has issued an Air Quality Health Advisory.
The Bureau of Land Management, U.S. Forest Service, along with Chaffee and Fremont Counties all remain under Stage II Fire Restrictions
Multiple road closures remain in effect around the Decker Fire in Chaffee, Fremont and Saguache Counties.
The Colorado Department of Transportation has issued a speed reduction of 40 mph on Highway 50 east of Salida and on Highway 285 south out of Poncha Springs over Poncha Pass.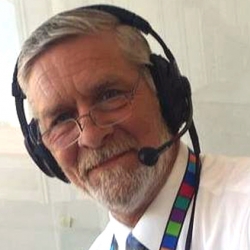 Danny "Dan R" Ridenour has been in radio and television broadcasting for 42 years, starting as a senior in high school at KAMO in Rogers, Arkansas.

Dan attended Arkansas State University in Jonesboro, Arkansas from 1978-82 (where he picked up the name Dan R after his fraternity brothers couldn't pronounce his last name), majoring in Radio/Television. Dan lived in Jonesboro for 10 years working in radio and then was a TV weatherman for ABC affiliate KAIT Channel 8.

Television was a little boring when compared to radio, so Dan returned to hosting radio morning shows in Nashville, Memphis, Oklahoma, and then eventually, Colorado.

Dan enjoys being involved in the community, having been an member of the Upper Arkansas Service Club and is currently on the board of directors for the Salida Community Center and is a member of the Chaffee County Fair Committee.

Dan and his wife Carrie spend their days doing everything the mountains have to offer: hiking, camping, fishing and skiing. They raised 3 children together and have 2 grandchildren.