The evacuation center has been moved to the Rotary Scout Hut in Riverside Park in Salida. 
The evacuation center will be open from 7 am to 8 pm daily offering breakfast, lunch and dinner to evacuees. Residents who have been impacted by the Decker Fire should visit the Rotary Scout Hut to access current information regarding Public Health, Human Services, Housing Support and more. 
Mike Harris of Crest Counseling is at the Rotary Scout Hut in Riverside Park today, Sunday, till 12 Noon (or longer depending on need) to offer free mental health services to those affected by the Decker Fire. Harris is certified by the Red Cross as a disaster mental health worker and is posted at the Scout Hut through the Red Cross.    
The Salida Post Office is holding all mail addressed to evacuees, you can pick up your mail at the post office.
The City of Salida is keeping the Salida Hot Springs Aquatic Center open instead of following through with a planned closure, so that they may provide free showers to firefighters and evacuees. Call 539-6738 to learn how you can access the showers.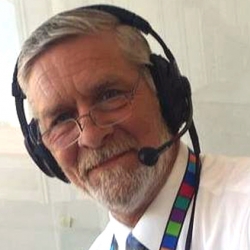 Danny "Dan R" Ridenour has been in radio and television broadcasting for 42 years, starting as a senior in high school at KAMO in Rogers, Arkansas.

Dan attended Arkansas State University in Jonesboro, Arkansas from 1978-82 (where he picked up the name Dan R after his fraternity brothers couldn't pronounce his last name), majoring in Radio/Television. Dan lived in Jonesboro for 10 years working in radio and then was a TV weatherman for ABC affiliate KAIT Channel 8.

Television was a little boring when compared to radio, so Dan returned to hosting radio morning shows in Nashville, Memphis, Oklahoma, and then eventually, Colorado.

Dan enjoys being involved in the community, having been an member of the Upper Arkansas Service Club and is currently on the board of directors for the Salida Community Center and is a member of the Chaffee County Fair Committee.

Dan and his wife Carrie spend their days doing everything the mountains have to offer: hiking, camping, fishing and skiing. They raised 3 children together and have 2 grandchildren.