Schools around the valley are opening for registration. Here's a rundown of all the back to school activities happening.
The Salida Middle School will be conducting registration this week.
Registration dates are:
5th grade: August 12th from 8am – 12pm, 1pm – 4pm
6th grade: August 13th from 8am – 12pm, 1pm – 4pm
7th grade: August 14th from 1pm – 4pm only
8th grade: August 15th from 8am – 12pm, 1pm – 4pm
Classes will begin on Friday for 5th grade only. Classes for 6th, 7th and 8th grades will begin next Monday, August 19th.
Longfellow Elementary School in Salida has scheduled a Meet and Great for Friday, August 16th. The first day of class is August 19.
Buena Vista School offices open today.
The first day of school in BV is Thursday, August 22nd.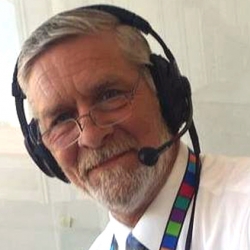 Danny "Dan R" Ridenour has been in radio and television broadcasting for 42 years, starting as a senior in high school at KAMO in Rogers, Arkansas.

Dan attended Arkansas State University in Jonesboro, Arkansas from 1978-82 (where he picked up the name Dan R after his fraternity brothers couldn't pronounce his last name), majoring in Radio/Television. Dan lived in Jonesboro for 10 years working in radio and then was a TV weatherman for ABC affiliate KAIT Channel 8.

Television was a little boring when compared to radio, so Dan returned to hosting radio morning shows in Nashville, Memphis, Oklahoma, and then eventually, Colorado.

Dan enjoys being involved in the community, having been an member of the Upper Arkansas Service Club and is currently on the board of directors for the Salida Community Center and is a member of the Chaffee County Fair Committee.

Dan and his wife Carrie spend their days doing everything the mountains have to offer: hiking, camping, fishing and skiing. They raised 3 children together and have 2 grandchildren.