Monday is Veteran's Day and there are many observances this weekend. 
High County Bank is serving up lunch during their 7th Annual Veteran's Luncheon from 11 am to 2 pm at the Highway 50 location in Salida and their Buena Vista branch. 
Relaxation Dental Specialties is hosting Smiles for Freedom tomorrow, offering free dental services to veterans. Limited spots are available. Appointments must be made in advance. Call 539-3145.
The 244th Marine Corps Birthday Celebration takes place Sunday night at 8 pm at the Salida Elks Lodge. All marines and FMF corpsmen are invited.
The Salida Elks Lodge is hosting the 100th anniversary Veteran's Day Supper, which includes dinner, a drawing and discussion, Monday night at 5:30 pm. Free to all veterans. 
The Cotopaxi Veterans' Rock sculpture dedication at Cotopaxi High School takes place Monday at 11 am. The ceremony features a flag raising by the American Legion and a speech by retired USAF Chief Master Sgt. Eric Hodsoll.
Colorado Parks and Wildlife is offering veterans and active duty military member's free admission to any of Colorado's 41 state parks on Monday. The park entrance fee is waived for anyone sharing vehicles with qualified service members.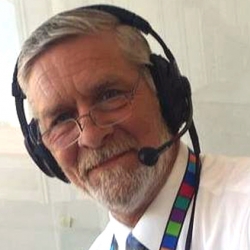 Danny "Dan R" Ridenour has been in radio and television broadcasting for 42 years, starting as a senior in high school at KAMO in Rogers, Arkansas.

Dan attended Arkansas State University in Jonesboro, Arkansas from 1978-82 (where he picked up the name Dan R after his fraternity brothers couldn't pronounce his last name), majoring in Radio/Television. Dan lived in Jonesboro for 10 years working in radio and then was a TV weatherman for ABC affiliate KAIT Channel 8.

Television was a little boring when compared to radio, so Dan returned to hosting radio morning shows in Nashville, Memphis, Oklahoma, and then eventually, Colorado.

Dan enjoys being involved in the community, having been an member of the Upper Arkansas Service Club and is currently on the board of directors for the Salida Community Center and is a member of the Chaffee County Fair Committee.

Dan and his wife Carrie spend their days doing everything the mountains have to offer: hiking, camping, fishing and skiing. They raised 3 children together and have 2 grandchildren.