Independence Day Celebrations abound in the area today. Here's a list of events and activities happening across the Ark River Valley.

BUENA VISTA
Buena Vista will begin the day with the Optimist Club Pancake Breakfast from 7 am to 9:30 am at Columbine Park. The annual July 4th Parade begins at 10 am. The kids bike and pet decorating contest is at 11 am. Art in the Park, live music, and kids games can all be found at McPhelemy Park during the day.  The American Legion Fireworks will be shot off from the Rodeo Grounds.

Heart of the Rockies Radio DJ Terry West will be raising money for the BV Fire Department in a boom truck starting at noon. Help get him down by donating!

SALIDA
Salida will celebrate July 4th in Riverside Park beginning at noon with Salida Circus, the Ark Valley Freedom Singers, the Salida Brass, and the bands KneeOn and Vehicle in the evening. The Salida parade rolls down F Street at 4 pm. The City of Salida Fire Department has a full fireworks display that will begin at approximately 9:30 pm.
HOWARD HALL
The 3rd annual 4th of July Community BBQ at Howard Hall takes place from 11 am to 3 pm. Cost is $10 per person, kids 10 and under are free.
FRANTZ LAKE
The annual July 4th Kids' Fishing Derby at Frantz Lake is from 9:45 am to 10:45. Registration begins at 8:30 am. A free hot dog lunch for participants and their families is at 11 am.

FAIRPLAY
Fairplay has a full day planned. A community Flea Market is scheduled from 10 am to 6 pm. The Burro Buster 5K begins at 11 am. The parade happens at 4:30 pm. The day also features old fashioned games, food, and live music.
LEADVILLE
In Leadville, the parade begins at 10 am along Harrison Avenue followed by a community BBQ at 11:30 am at St. Vincent Hospital and fireworks at 9 pm.
Have a safe and happy 4th of July from everyone at Heart of the Rockies Radio!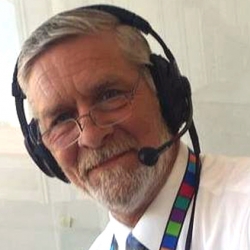 Danny "Dan R" Ridenour has been in radio and television broadcasting for 42 years, starting as a senior in high school at KAMO in Rogers, Arkansas.

Dan attended Arkansas State University in Jonesboro, Arkansas from 1978-82 (where he picked up the name Dan R after his fraternity brothers couldn't pronounce his last name), majoring in Radio/Television. Dan lived in Jonesboro for 10 years working in radio and then was a TV weatherman for ABC affiliate KAIT Channel 8.

Television was a little boring when compared to radio, so Dan returned to hosting radio morning shows in Nashville, Memphis, Oklahoma, and then eventually, Colorado.

Dan enjoys being involved in the community, having been an member of the Upper Arkansas Service Club and is currently on the board of directors for the Salida Community Center and is a member of the Chaffee County Fair Committee.

Dan and his wife Carrie spend their days doing everything the mountains have to offer: hiking, camping, fishing and skiing. They raised 3 children together and have 2 grandchildren.